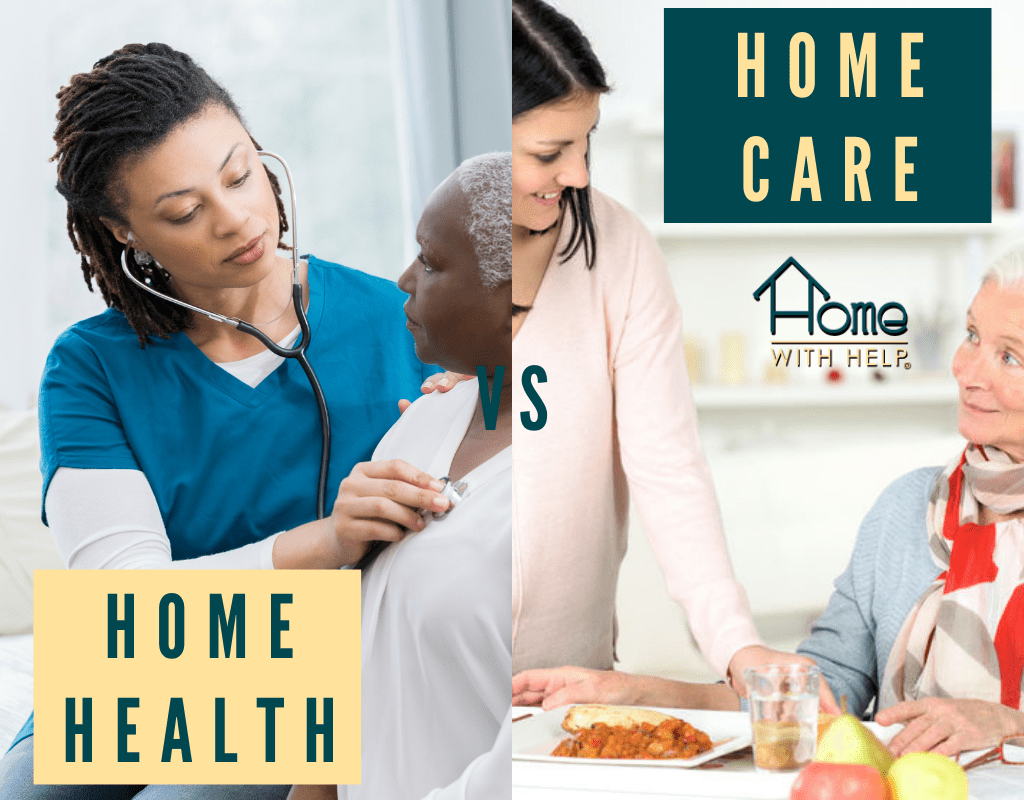 Home health vs home care? Have you heard these two terms and just assumed they meant the same thing? Or have you been confused about what the difference was? Don't worry; you are not alone. These terms are often used interchangeably, but they mean very different things in our industry.
Home With Help® is a home care agency. So, we get asked a lot of questions about what services we offer, because most people don't know the difference between the two types of companies. We totally get it as our family didn't know how they were different before we got into this line of work.
Hopefully, this will help…
In-Home Care Agencies
Home care is a term people use to describe non-medical care provided by a caregiver in someone's home. If a company says they are an in-home care (or home care) agency, then they have caregivers that will provide non-clinical services for people who need help with activities of daily living.
Below is a list of services that Home With Help® and most other companies offer as a home care agency. We pride ourselves in being able to offer a concierge approach to in-home care. So, this is not a comprehensive list of our services, but will hopefully give you a better understanding of what home care companies offer.
Personal Care Services such as bathing, toileting, dressing, grooming, hygiene assistance, and transportation.
Companionship for clients can be anything from medication reminders to playing games to monitoring diet and eating. This service can be for the senior who lives alone or for the family member who lives with the sick or elderly person and cannot leave the home.
Homemaking for the elderly, permanently or temporarily disabled, or senior suffering from Alzheimer's or Dementia. These services include laundry, dishes, light housekeeping, meal prep, transportation to doctor's visits or grocery store, and more.
Why should you should hire a home care agency?
Most seniors think if they hire a home care company, it takes away their independence. But, it is actually the opposite. It is a great preventative tool to allow them to stay in their homes as long as possible.
Home care services are perfect for anyone who needs a little extra help with activities pertaining to daily living. Hiring a caregiver is a great idea for someone who has had a recent surgery or hospital stay and cannot perform all of the normal tasks at home. If you have an elderly loved one in another state, you could hire a home care agency to check on them and help around the house.
Home Health Care
Home health is defined as in-home medical care and/or skilled services. Companies that offer in-home health care have licensed professionals on staff to help with acute or chronic health conditions.
This is a general list of services offered by home health care agencies…
Occupational therapy
Physical therapy
Nursing
Wound care
Doctor visits
Reasons to hire a home health care company
If you or a loved one has recently been released from the hospital, rehab center, or skilled nursing facility and still need clinical help, you would hire a home health care company. Or, if an elderly loved one has been diagnosed with a serious medical condition, home health care may be ordered by a doctor.